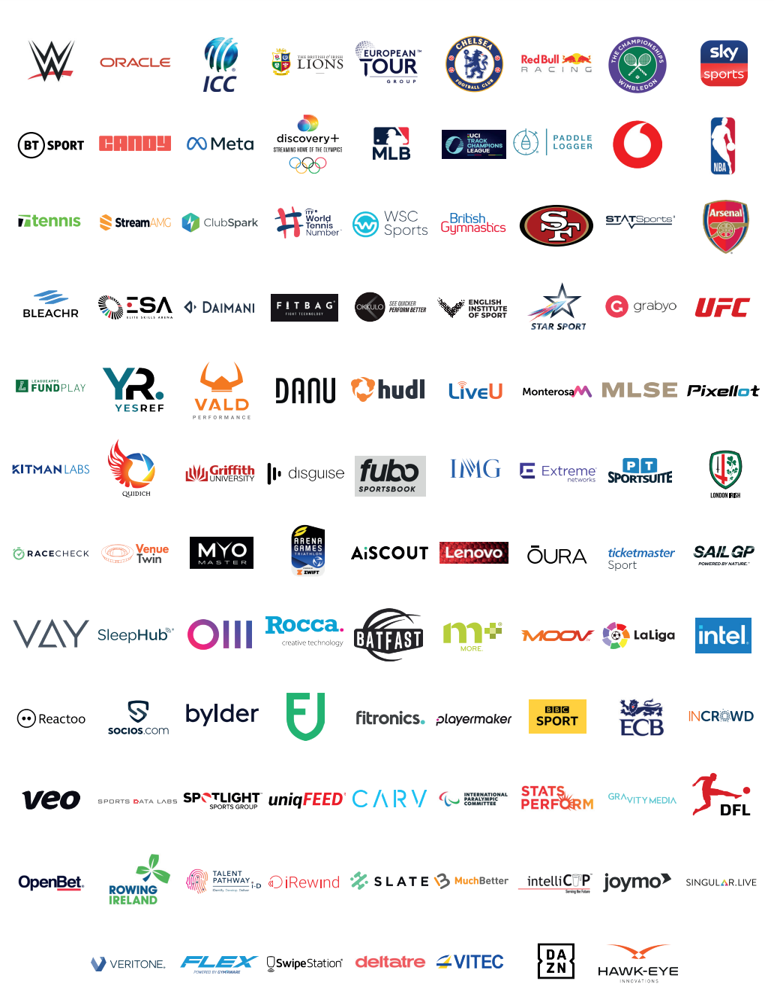 2022 Sports Technology Awards Shortlist Revealed: 'Sports Tech is Moving from Evolution to Revolution…'
LONDON, UK: Today (9 February 2022) The STA Group revealed the shortlist for The 2022 Sports Technology Awards, which represented 110 brands, 19 categories, 37 sports and five continents.
Over 50 judges had the unenviable – but fascinating – task of choosing the finalists; they spent, collectively, around 200 hours determining which companies would go forward. The resulting list includes both the most exciting start-ups as well as many of the biggest brands in the sector, including the NBA, MLB, ICC, Chelsea FC, Arsenal FC, Hawk-Eye and Meta.
Rebecca Hopkins, CEO of The STA Group, said: 'Every year our judges report how interesting they find Sports Technology Awards' entries– and we are most grateful to them because they work hard. The difference this year is that we seem to be moving from evolution to revolution in terms of how so many things in sport are done. Important areas, such as broadcast production, social platforms, venue management and athlete training are now – or will shortly – look very different from just a few years ago. Stakeholders in all areas are becoming more sophisticated and demanding, and the technology being created to meet or shape these needs is coming thick and fast. These are exciting times for our sector and we cannot wait to reveal the winners in person, on May 12th.'
The Sports Technology Awards is the leading global celebration of technology-led innovation across the international sports sector. Held annually as a competition to highlight outstanding advances in the industry, The Awards is run by The STA Group, which also owns The Sports Technology Annual Review, The Power List and The STA Startups.
The Sports Technology Awards ceremony will take place on London's Leicester Square at the capital's new 'super boutique' hotel, The Londoner. Tickets on sale now.
The 2022 shortlist
Best Analytics in Sport
ClubSpark and ITF, ITF World Tennis Number
Extreme Networks, ExtremeAnalytics: Dominating Professional Sports
Hudl, Coach and Athlete Analysis Platform
Oracle, SailGP Taps the Power of Oracle Cloud
Spotlight Sports Group, Superfeed
Veo Technologies, AI Powered Camera and Anaylsis Platform
App of the Year
Bleachr, Interactive Streaming Platform
DFL Deutsche Fußball Liga and TeraVolt, Bundesliga Interactive Feed
The Hundred – The ECB and InCrowd
Playermaker, Capturing Data from the Source of Motion
Veritone, Digital Media Hub
YesRef, Find Referees Globally
Best Athlete Coaching and Performance Technology
Hudl, Coach and Athlete Analysis Platform
Intel, 3D Athlete Tracking (3DAT)
Lenovo, Smart Training Solution
Okkulo, V1 System Light Science
Talent Pathway iD, Finding, Recruiting and Retaining Sports Talent
Vodafone, PLAYER.Connect
Best Broadcast Technology
Disguise, disguise xR Extended Reality
Hawk-Eye Innovations, Hawk-Eye Connect
IMG Productions and LiveU, Live IP Bonding Multi Camera Production
Joymo, Revolutionising Live Streaming for Sport
Quidich Innovation Labs, Quidich Tracker
Singular.live, Professional Grade Graphics Platform
Stats Perform, Reimagining in-game storytelling
StreamAMG, Powering OTT Services
UniqFEED, AdApt – Virtual Adverting Software
Blockchain, Crypto and NFT of the Year
AELTC, Wimbledon and Andy Murray NFT Collection with WENEW
Candy Digital and MLB, Building MLB's NFT Ecosystem
Maple Leaf Sports, Drop Shop – a proprietary NFT platform
Socios, Socios.com
Best Technology for Communications and Storytelling
iRewind, UBS Kids Cup Finisher Clips
Meta, PHORIA and IPC, RAW: Emotions Unite Us
NBA, 75th Anniversary Digital Hub
Slate, Content Creation Asset Management Platform
TwelfthMan, bylder – shaping your success.
WSC Sports and DAZN, Real-Time Web Stories on Google
Best Digital Technology
Chelsea FC, The 5th Stand
DAIMANI, Reinventing Sports Hospitality
Tennis.com powered by Deltatre
OpenBet, Global Sports Betting Platform
PlayMoreGolf, Flexible Golf Club Membership
Rowing Ireland, Coach Education for Rowing
Equipment or Wearable of the Year
EIS. Graphene Enabled Muscle Warming Clothing
Fitness Interactive, FITBAG FIGHT SYSTEM
Kinetic Performance Technology Australia and GymAware, FLEX Powered by GymAware
Motion Metrics, Carv
MyoMaster, MyoPro Muscle Recovery
Oura Health, Oura Ring Generation 3
Best Fan Engagement by a Brand
AELTC and IBM, The IBM Power Index at Wimbledon
BT Sport, Matchday Experience
Chelsea FC, The 5th Stand
Discovery, Launching the UCI Track Champions League
MLB and Pixellot, Taking Fan Engagement to the Next Level
UFC and Grabyo, Delivering Raw Live Social Video
Best Technology for Fan Engagement
Fanbase, Fanbase Engagement Platform
Fubo Gaming, Fubo Sportsbook
Monterosa, Interaction Cloud™
Other Media, Clubcast Fan Experience Platform
Reactoo, Delivering Content Engagement
VITEC, EZ TV IPTV and Digital Signage
Best Technology for Fitness and Participation
AiSCOUT, Find and Analyse Amateur Talent
BatFast, BatFast Pavillion
Cambridge Sleep Sciences, SleepHub – scientifically developed sleep
Paddle Logger, The Paddle Logger App
Racecheck, Review Box
Rocca Creative Thinking, Boccia Competition Management System (BCMS)
Governing Body of the Year
AELTC
British Gymnastics
European Tour Group
LaLiga
NBA
WWE
Best Technology for Venues and Operations
Invisionary Holdings, IntelliCUP Drinks Dispensing System
MuchBetter, Digital Wallet
OnePlan, Venue Twin
San Francisco 49ers, Member Inclusive Menu
SwipeStation, Safety Thirst
Ticketmaster Sport, 3D Virtual Venue
Capgemini Innovation of the Year
AiSCOUT, Find and Analyse Amateur Talent
iRewind, AI Powered Personalized Half Pipe Videos
Kitman Labs, Intelligence Platform – Risk Advisor
NBA, Referee Engagement and Performance System
OpenBet, SportCast's BetBuilder
Sports Data Labs, In-Game Prediction System using Health Data
Super League Triathlon, SLT Arena Games
VAY AG, Perceiving and Predicting Human Motion
Best Technology for Injury Prevention or Rehabilitation
Danu Sports, Smart Socks System
EIS, Copy of Graphene Enabled Muscle Warming Clothing
Elite Skills Arena, The 'Wireless Circuit'
Kitman Labs, Performance Medicine
STATSports, Sonra Watch
VALD and Griffith, Raising the Bar in Women's Sport
Sports Technology Partnership of the Year
Arsenal FC and STATSports, STATSports Partnership with Arsenal Football Club
British & Irish Lions and PT SportSuite, MultiTenant Ecosystem
British Gymnastics and Fitronics, Rise Hub
ECB and InCrowd, The Hundred
MLB and Pixellot, Bringing Ai-Automation To The Ball Park
Oracle Red Bull Racing, Data Optimization Partnership
Sustainability in Sport
BBC Sport and Moov, Tokyo 2020 Olympics
Invisionary Holdings, IntelliCUP Drinks Dispensing System
OnePlan, Venue Twin
Paddle Logger, Promoting Sustainable Behaviour
SailGP, Impact League
Singular.live, Remote Production Services
Technology for Good
LeagueApps, FundPlay Helping Youth Sports
Meta, PHORIA and IPC, RAW: Emotions Unite Us
NBA, Referee Engagement and Performance System (REPS)
SailGP, Impact League
Veo Technologies, AI Powered Camera and Anaylsis Platform
Best Use of Technology by a Broadcaster
BT Sport, Remote and De-centralised TV production
DFL Deutsche Fußball Liga and TeraVolt, Bundesliga Interactive Feed
Discovery, All-New Cube Studio for Tokyo 2020
Gravity Media and Sky Sports, Globecam HelmetCam at The Hundred
Moov and BBC Sport, Tokyo 2020 Olympics
Star Sports India and ICC, Broadcast Technology at the ICC T20 World Cup
Tickets on sale now, please contact Tanya Power for more details on booking